Foodie Pharmacology is a science podcast built for the food curious, the flavor connoisseurs, chefs, science geeks, plant lovers and adventurous taste experimenters out in the world! Join American ethnobotanist Dr. Cassandra Quave on this adventure through history, medicine, cuisine and molecules as we explore the amazing pharmacology of our foods.
Episodes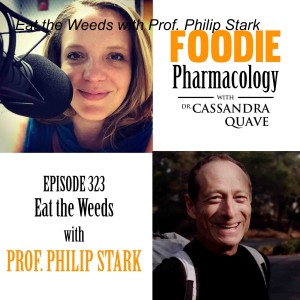 Tuesday Jul 06, 2021
Tuesday Jul 06, 2021
This week, we're talking about one of my favorite subjects: foraging! Our guest is Professor Phillip Stark, the founder of Berkeley Open Source Food and Wild/Feral Food Week and a professor of statistics at UC Berkley. Philip is passionate about urban foraging, including studying the safety, nutrition, and availability of wild foods in urban ecosystems and their value for ecosystem services and nutrition security. Bonus: we also share some of our favorite recipes for wild ingredients, including some delicious homemade wild plant liqueurs!
#forage #weeds #sustainability