Foodie Pharmacology is a science podcast built for the food curious, the flavor connoisseurs, chefs, science geeks, plant lovers and adventurous taste experimenters out in the world! Join American ethnobotanist Dr. Cassandra Quave on this adventure through history, medicine, cuisine and molecules as we explore the amazing pharmacology of our foods.
Episodes
Monday Jul 19, 2021
Monday Jul 19, 2021
This week I meet with Prof. Jonathan Silvertown, an ecologist and evolutionary biologist with a research interests in plant population biology. We chat about the evolution of our foods, exploring how the domestication of plants and animals has shaped our modern dinner plates. His book, Dinner with Darwin, explores how everything we eat has an evolutionary history. You can also follow him on Twitter: @JWSilvertown
#evolution #domestication #crops
Monday Jul 12, 2021
Monday Jul 12, 2021
This week on the show, I chat with David Hamilton about his latest book Where the Wild Things Grow: A Foragers Guide to the Landscape. David is an expert forager and offers lots of great tips on easy things to forage along with some very tasty recipes! Who knew that magnolia flowers could make a delicious pickle for salad toppings? Or how about a wild mushroom calzone? My mouth is watering just thinking about some of these! Tune in to learn more and check out his website: https://www.davehamilton.co.uk/ . Follow David on Twitter and Instagram: @davewildish 
#Forage #WildFood #Recipes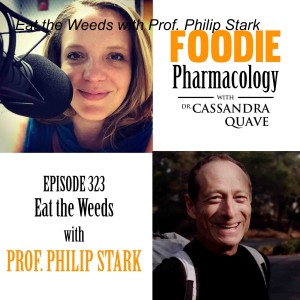 Tuesday Jul 06, 2021
Tuesday Jul 06, 2021
This week, we're talking about one of my favorite subjects: foraging! Our guest is Professor Phillip Stark, the founder of Berkeley Open Source Food and Wild/Feral Food Week and a professor of statistics at UC Berkley. Philip is passionate about urban foraging, including studying the safety, nutrition, and availability of wild foods in urban ecosystems and their value for ecosystem services and nutrition security. Bonus: we also share some of our favorite recipes for wild ingredients, including some delicious homemade wild plant liqueurs!
#forage #weeds #sustainability